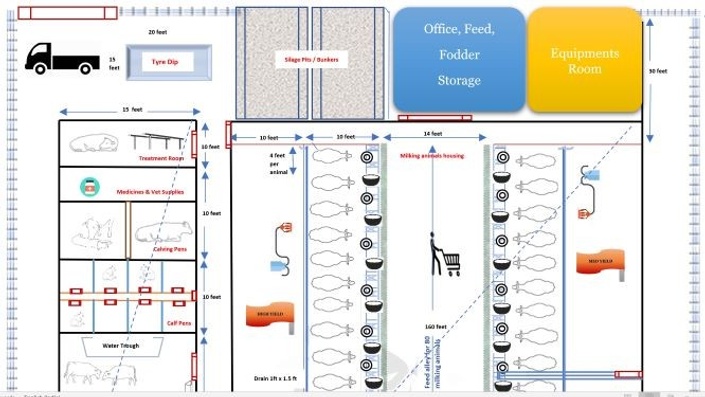 Housing for Dairy Animals
Get 10 designs. Learn how to make your farm a smart dairy farm, whether its old or new
Watch Promo
PRICE OF COURSE AFTER DISCOUNT Rs 599.
Among the many factors that lead to the success or failure of dairy farms, one of the most important factors is housing. One aspect that stands out in successful dairy farms is housing system that requires less labor. Inevitably, successful dairy farmers choose sheds which provide a comfortable and healthy environment to animals. The designs help manage space including storage efficiently and take care of bio-security measures in the dairy farm.
The type of drainage system that your housing design has will determine how much you have to spend on manure disposal. Additionally, the incidence of diseases due to flies and ticks in your dairy farm will also be influenced by housing design. The most common diseases in dairy animals such as mastitis have a strong correlation with the type of floor design and the overall housing systems that you choose.
Did you know that dairy animals need to lie down and take rest for at least 12 to 14 hours in a day? Increasing lying time improves the health and reduces the incidence of lameness in dairy animals. If a dairy animal gets around 5 litres of water from all sources, then it can produce one litre of milk from it. Hence she must have access to a constant supply of clean fresh water at all times.
At Teplu we have created a first of its kind course on "Housing for Dairy Animals" for you. This course will provide you insights into the different kinds of housing systems. You will get 10 types of housing designs. Whether you have a dairy farm of 20, 100, 200 or 500 animals, you will get deep insights into every corner of a smart dairy housing design. Our videos have been shot in actual dairy farms which have been running successfully over the years. Learn from experts who have created successful dairy farms.
Meet your instructor
Your Instructor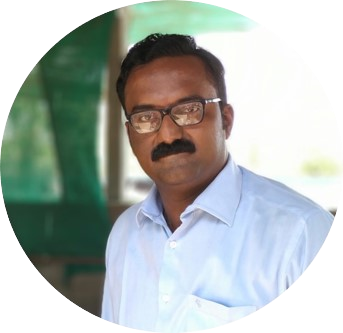 Dr Shailesh Shamrao Madane is a B.V.Sc. & A. H. professional who graduated from Bombay Veterinary College, Mumbai. He has over ten years of rich experience and is a renowned dairy farm consultant. He has helped numerous farmers set dairy farms that produce clean, residue free milk. With a razor sharp focus on welfare of dairy animals, he has helped farmers set up profitable and sustainable farms. He has also trained thousands of farmers in dairy farming and helped them resolve several pressing problems.
He also provides consultancy to some of the most reputed companies in the livestock sector. As a winner of GRMF award he has studied in quality milk production services laboratory for 3 months at Cornell University, New York, USA. He has also worked as an extension expert of the animal husbandry department of Maharashtra.
How can this course on dairy farming help you?
This course will provide you with 10 housing designs. You will get three types of designs for a dairy farm of 20 animals. They are loose housing with double shed, loose housing with single shed and tied housing system. You will get two types of designs for a farm of 100 desi (indigenous) cows / buffaloes. They are loose housing with double shed and tied housing system .
From this course on dairy farming you will get the layout of a Loose housing dairy farm with 100 cross bred (HF & Jersey or a mix of both) cows or buffaloes. You will also get a tied housing layout for 100 cross bred cows. For 200 cross-bred or jersey cows, you will get two types of designs namely loose housing system with separate shed for milking animals and cubicle system. Along with this you will also get the design for a herring bone milking parlour for milking 12 animals. For a dairy farm of 500 animals you will get a loose housing design.
We have taken care to include low cost dairy housing structures that require minimal investment and yet help you implement scientific farming practices. These housing structures ensure that very less labor is needed in daily operations and animals get the best natural environment for good health. They offer flexibility to transform from a small size to large sized dairy farms.

Whether you are from a heavy rainfall area, dry , humid or cold area, this course takes care of the regional differences in climate and explains how to customize your sheds. Due to mistakes in the design the construction costs increase while creating or expanding housing structures for dairy farms. These mistakes stay with you for a long time and continue to create management problems. This course will help you identify and avoid all such pitfalls in dairy farming.
This course will guide you about every single area in a dairy farm in great details. Areas in a dairy farm such as feed manger, floors, standing area, feed alley, rails, headlocks, compartments, water troughs, open area, shed, milking area are covered. In addition, deep insights on housing for different categories of animals such as milking animals, calving pens, calf pens, calf & heifer housing, manure pit, storage and equipments area, silage pits & bunker sizes, travis, bio-security and much more is provided. Care has been taken to include perspectives from hundreds of successful dairy farms so that you can create the best kind of housing for your dairy animals.
Get a Certificate of Completion On Successfully Completing the Online Course
"BOOST YOUR CAREER PROSPECTS"
Course Curriculum
Important factors you should consider before designing housing for dairy animals
Available in days
days after you enroll
Types of Housing that you can choose from
Available in days
days after you enroll
Housing Design for a Farm of 20 Dairy Animals (Cows or Buffaloes)
Available in days
days after you enroll
After purchasing this course you will get
Over 25 Course Videos
Expert support for one year

Downloads
10 Housing Designs
1 Milking Parlor Design
Floor and Cubicle Designs
Silage Pit & Bunker Sizes

After Completing this Course on "Housing for Dairy Animals" you should be able to:


Improve your existing farm's housing

Decide the type of housing suitable for your location

Create a safe housing structure for better health

Construct your dairy farm shed using our designs

Create a farm for Desi Cows, Cross-bred cows or Buffaloes

Save on unwanted costs during construction

Get a video based experience of numerous farm structures

Confidently handle challenges linked to dairy housing
Frequently Asked Questions
When does this course on dairy farming start and finish?
The course starts when you enroll and ends after one year! It is a completely self-paced online course - you decide when you start and when you finish within this period.
How long do I have access to the course?
One year. After enrolling, you have unlimited access to this course for one year - across any and all devices you own.
Can I interact with the instructor ?
We would want you to make the best out of this course. You can always interact with the instructor through the comments section after each video. The instructor will respond to all your queries on the course.
What if I have other queries on dairy farming?
As a course user, you will always have our support at all times. You can write to us at
[email protected]
for any query that you may have. We will respond to you at the earliest possible.
For whom is this course on dairy farming applicable ? Do I need some qualifications to get this course?
This course is intended to benefit dairy farmers, students, professionals, entrepreneurs who want to set up new dairy farms or improve their existing dairy farms. Our technology platform can be used by institutions such as NGOs, companies and others for large scale training and development. You don't need to have any qualifications to be eligible for this online course. In fact our video based courses are designed with such simplicity that any person can learn and implement scientific processes in the farm.
ORIGINAL PRICE OF COURSE Rs 3000. AFTER DISCOUNT Rs 599.