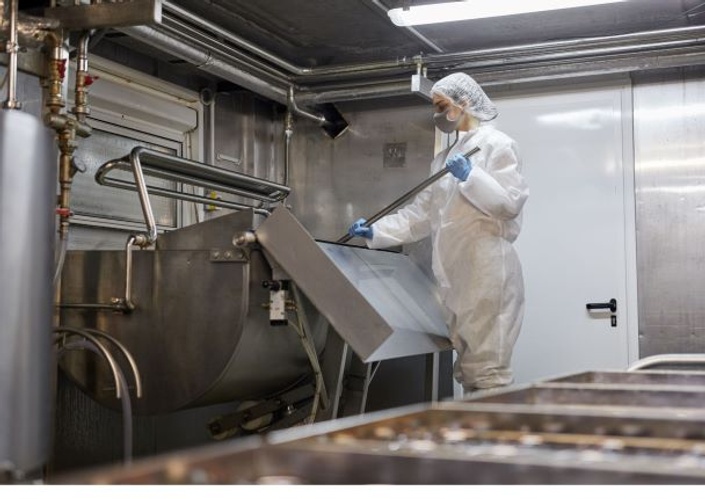 Practical Classes on Dairy Products
Learn from India's Leading Dairy Experts. Live, Onsite. Practical Training at your site
Watch Promo
We provide practical training to customers who set up their dairy plant through us. Our goal is to create a successful dairy brand for you through end-to-end solutions and support. If you want an onsite experience in making dairy products, we invite you to take our practical onsite training session. The goal is to make you the most effective and successful practitioner in the field of dairy processing. We help you achieve that through our scientific classroom approach and experts known to be the best in the industry.
Location: At your site
Duration: 2-3 Days
Who can attend practical classes : New Entrepreneurs, Housewives, Existing Dairy Product Manufacturers, Dairy Professionals, Caterers & Students

Batch Size: Limited to a maximum of 20 people only.
Online Support after practical classes: As per the project contract

Know more through Teplu brochure: Download

Call us: +919830910069 (10 am to 7 pm IST, Mon to Sat)
Whatsapp us: +919819510665

Your Instructor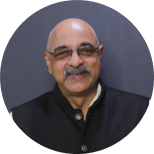 Dr. Rajendra Kokane has over 40 years of rich experience in the field of manufacturing traditional Indian and innovative milk products. He is an M.Sc., Ph.D. in Dairy Technology and has taught graduate, postgraduate and doctoral students for over 30 years as a faculty member in Bombay Veterinary College, Mumbai. He has over 15 + years of rich industrial experience having guided some of the leading dairy product manufacturing companies in India and USA. He was a member of, IDP of Export Inspection Agency, Mumbai since 2002 and audited more than 100 dairy plants in Maharashtra for MMPO, FSSAI, and Export License over the past 13 years. A recipient of several prestigious awards, Dr. Kokane is affiliated with numerous industry associations and high-level technical committees in the dairy industry. View detailed profile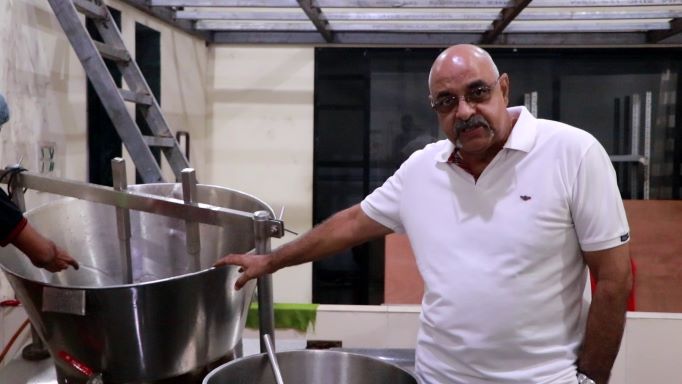 What will you learn in practical onsite classes?
Day 1: Morning Session: Interactive discussion with expert about problems in dairy processing, profitability, success tips for new entrepreneurs, challenges, potential in dairy industry, milk constituents, collection and processes during procurement.
Afternoon Session: Demonstration of manufacturing dairy products such as Paneer, Curd, Whey drink.
Day 2: Morning Session: Interactive discussion on new technologies in dairy processing, challenges and scaling up businesses.
Afternoon Session: Demonstration of manufacturing dairy products such as Shrikhand, Rabri, Basundi, Ice-cream, Kulfi.
Get a Certificate of Completion On Successfully Completing the Classroom Course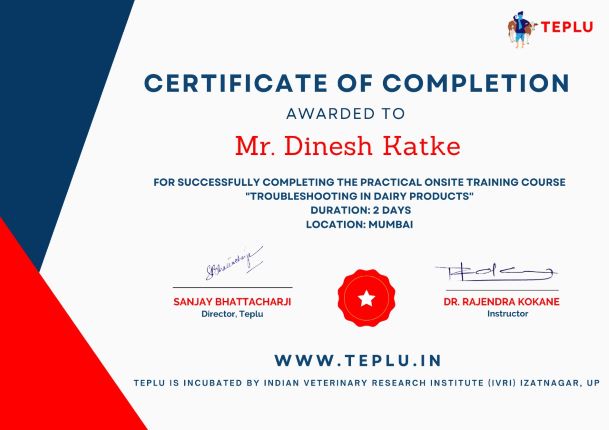 Frequently Asked Questions
Will I get to see actual product manufacturing?
Yes. In the practical classes you will see actual demonstration of products being manufactured by the expert. You can take part in the process and learn as much as you can.
Will I get a certificate after attending the session ?
Yes you will get a certificate in Practical Classes on Dairy Products. After you complete the practical classes you will get a certificate of completion by email within one week.
For whom are practical classes on dairy products beneficial ? Do I need some qualifications to attend this course?
The practical classes on dairy products is intended to benefit dairy farmers, homemakers, students, professionals, entrepreneurs who want to set up new processing plants or improve their existing dairy products. You don't need to have any qualifications to be eligible for this course. In fact, our practical courses are designed with such simplicity that any person can learn and implement scientific processes in dairy product manufacturing.
How is this practical course different?
At Teplu we provide solutions so that you become successful in your business. We donot manufacture any product and hence we believe in providing you with complete information which is technically correct. We also provide online support after the course is over so that you get the necessary assistance while preparing products.